Disney's Frozen Tour: a visit with young artists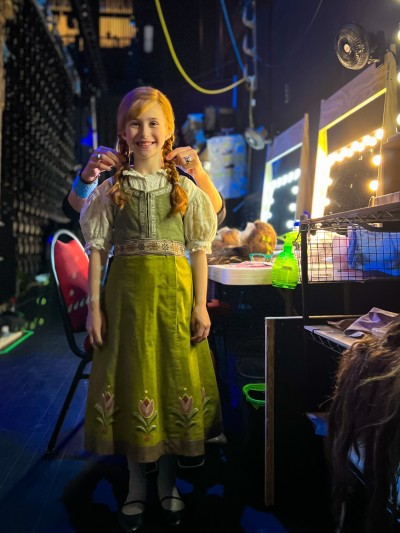 SSydney Elise Russell, who plays young Elsa in Disney's Frozen, knew she wanted to be an actress after seeing The Lion King on Broadway when she was 5 years old. With the support of her mother, who "is my awesome vocal coach", Sydney began her professional career at the age of 6 when she played Tinker Bell in Peter Pan, Jr. Last year, she played the role of Young Nala in The Lion King on Broadway.
Aria Kane, who plays young Anna in Frozen, said she had been performing since she was "about 2 or 3 years old". Her first theater performance was playing Dorothy in The Wizard of Oz, Jr. at Annie's Playhouse in New Jersey. As a young Anna, Aria says she loves her role because "I'm finally a real, living Disney princess…I've wanted to be one my whole life!"
fans of Frozen can see Sydney and Aria at the Tulsa Performing Arts Center as they perform their roles in the Broadway musical, which opens October 20.
Both Aria and Sydney started acting, dance/gymnastics and singing lessons at a very young age.
Sydney's advice to other young people is to pursue their dreams.
"My advice for a budding artist would be to follow your heart," she says. "Make sure you get the proper training and coaching, and always work on your craft. You never know when your opportunity will come, so make sure you're always ready to show up and do your best.
Sydney hopes to inspire other young girls to "dream big". She hopes to one day write and direct her own television shows, films and plays. Both girls are grateful for the opportunity to perform with other cast members and enjoy being on stage in cities across the United States.
During the tours, the tutors keep them up to date with their homework. Aria finds joy in being on the road – and she loves planes!
"It's really cool to see all the different cities, explore new places and meet new people," says Aria. "Sometimes I miss my home, my father, my grandmother, my cats and my dogs."
She likes to relax by hanging out with the other girls on tour and playing on her iPad. And, like most kids, she loves swimming in hotel pools.
Both Aria and Sydney shared fun facts that happened to them on their eighth birthday.
"I started touring with Frozen on my eighth birthday! Arya said. "The cast and crew even gave me an Elsa cake to celebrate, and everyone sang Happy birthday to me before the show.
Sydney said her eighth birthday video went viral in 2019 when her parents shared a video of her dancing in Disney's Magic Kingdom. "Millions of people shared it on social media!" she says. "As a result, I had several television appearances, met so many amazing people, and created a wonderful memory that I will never forget."
---